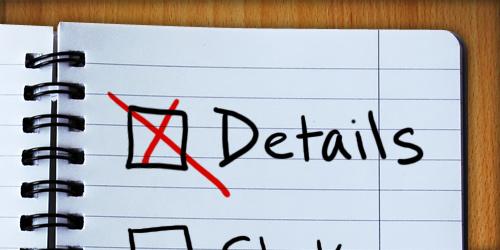 Photo Credit: Talenta Blog – Human Resources Today
I am married to a High C style manager. Aside from my own iS style, this is the style I probably know and understand the best. My husband says he can sum up the C style by this little quip:
I was having a great day, and then…people.
Allow me to further spotlight what the C style is all about.
C's are task-oriented and logical individuals. They place a high priority on accuracy, stability, and challenge. For them, "being right" is not about ego; it is about finding the truth or right answer for the sake of finding the truth or the right answer. Very analytical by nature, C style individuals thrive in careers like engineering, data science, scientific research, and software development. In a team environment, C style members are the ones that dot the i's and cross the t's, making certain that no detail is overlooked. Compliance is their middle name (read: rules are made to be followed–always!). If you are lucky enough to work with a C-style boss or manager, you know that quality, details, and perfection matter immensely, and you are well-served to keep in mind a few other things, too (keep reading!).
Support ideas with logic and facts.
C style managers and bosses are very open to exploring new ideas and options. However, if you are wanting them to pay attention to those ideas and options as "good" ones, you need logic and facts to back you up. Don't bother with the emotional pleas; logical reasoning trumps all for the C style.
Be prepared with evidence to back up your plans.
C style managers and/or bosses want to know that you've thought through your plans and that you're basing your ideas and decisions on sound evidence. They are cautious by nature and are not going to be the boss that champions trying something new unless you've got the evidence to show them that your new idea or initiative is 99.9% likely to work. #showyourwork and be ready to point to past or other successes when showcasing your plans.
Emphasize accuracy over speed.
In the C style boss or manager's world, speed matters rarely at all. Getting the right answer is the key. Quality over quickness. Everyday. All day long. C styles are champions of the idea "if it's worth doing, do it right." They respect and appreciate their colleagues who take the time to do a thorough and exacting job, no matter how long it takes.
Allow them ample time to make decisions.
Need a decision quickly from your C style boss? Forget it. C style bosses and managers move very deliberatively, purposefully, and cautiously. Rarely, if ever, will they make a decision on the fly or without considering all of the relevant angles. C style bosses and managers believe that accuracy and stability are paramount in the workplace, and they will not make quick decisions as a way of protecting these important priorities. If you need a decision from your boss or manager, be sure to provide them with plenty of time to think it through, and ask them for a timeline on when they plan to get back to you (this will help you AND them stay on track).
If you work with another style of boss or manager, and you're interested in learning how to be more effective with them, read my blog posts over the last month (this is the last in this series!): www.charitigent.com/blog.
Do you struggle with your C style boss or manager? Want to learn how to interact more effectively with him or her? I can help. I regularly consult and coach individuals on how to do this (and I've been married to a C style for 19 years, so I've learned a few things along the way!). Please reach out to me at chariti@charitigent.com or 608.334.4501.